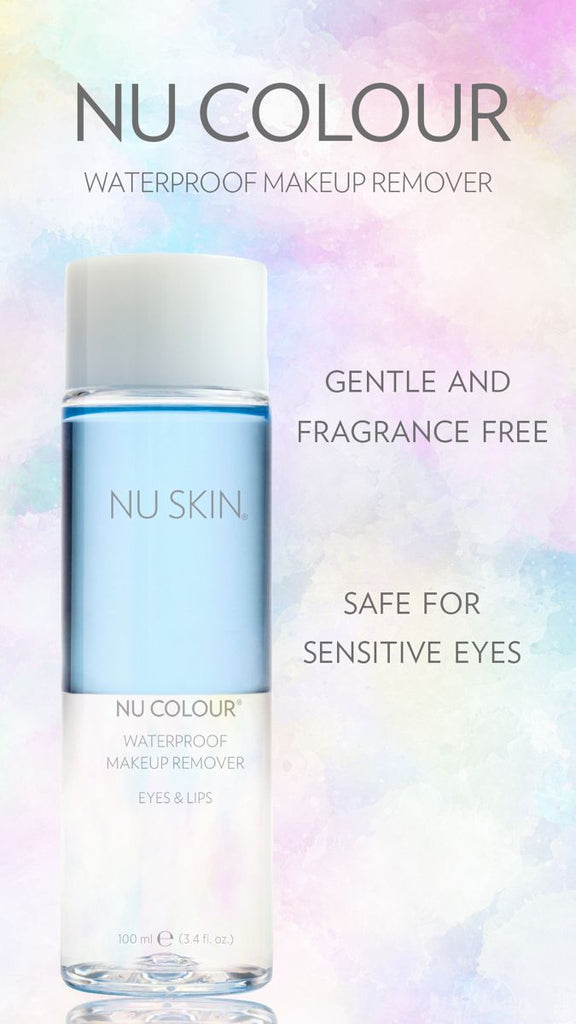 Waterproof Makeup Remover
$ 30.00
Shake off your day the gentle way. Refresh your skin after a long day by removing waterproof and long-lasting makeup with Nu Colour Waterproof Makeup Remover. This bi-phasic formula features two distinct layers: the top is a Nu Skin blue and the bottom is clear. When shaken, the combined layers activate to gently—yet effectively—remove makeup from eyes and lips without irritating these delicate skin areas. The formula is even powerful enough to remove long-wearing foundation. Let the sparkling mixture formulated with soothing botanicals such as cucumber, sea beet, and cactus extracts do the hard work—no harmful rubbing required. As you do, a blend of amino acids and coconut fatty acid will also help moisturize and protect your skin, leaving your lips and eyelids feeling smooth and soft. End your day with clean, refreshed eyes and lips with the sparkling power of Nu Colour Waterproof Makeup Remover. 
Leaves lips, skin, and eyelids feeling and looking smooth and soft
Usable on both eyes and lips.
Feels natural without leaving a greasy residue.
Contains soothing botanical extracts.
Formulated fragrance-free.
Formulated with sensitive skin in mind.
Ophthalmologist tested safe for contact wearers.